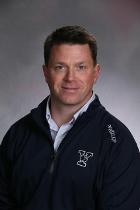 Yale University Head Coach
Andy Shay
The last nine (2010-2018) seasons under Andy Shay, who completed the 15th season of his first collegiate head coaching job in 2018, have been historic for the program on many levels. The Bulldogs have gone 103-40 with eight 10-win seasons, including the 17-3 national championship campaign from last spring.
Shay led Yale to its first NCAA Lacrosse Championship after directing the Bulldogs to their first perfect Ivy League season since 1956. The Ivy and ECAC Coach of the Year then helped his squad march through the NCAAs with wins over UMass, Loyola, Albany and Duke. The 13-11 win over the Blue Devils on Memorial Day at Gillette Stadium not only allowed the Bulldogs to raise the national championship trophy for the first time, it was the school-record 17th victory.
The .700 winning percentage over the nine-year stretch is the best for the Elis. Shay, the 2017 Ivy League Coach of the Year, has also directed the Bulldogs to nine straight Ivy League Tournament appearances, five Ivy Tournament Titles, three regular-season Ivy League Championships and six NCAA appearances, including Yale's first in 20 years.
Shay's teams won three (2015-17) straight league tournament titles. Winning the 2016 version was part of a 13-3 campaign that included jumping out to a 10-0 start and being ranked No. 1 for a few weeks.
His 2013 team was one of his most successful with a 12-5 mark, an Ivy League Tournament title, a win in the first round of the NCAAs at Penn State and a final No. 7 national ranking. Only a late comeback by top-ranked Syracuse in the final minutes of their NCAA Quarterfinal contest at College Park, Md., prevented the Elis from making the national championship weekend for the first time since 1990. The team made history by becoming the first squad to win back-to-back Ivy Tournament championships.
The Bulldogs' 2010 season marked the first post-season appearance since 1992 and the first Ivy championship since 1990. Shay's squad was ranked as high as No. 9 at one point during that campaign.
Shay (138-85, 15 years), named Yale head coach on June 25, 2003, helped guide the University of Massachusetts to the 2002 and 2003 NCAA quarterfinals as an assistant coach for four years under Greg Cannella. During his tenure, the Minutemen won two ECAC championships and three New England titles. UMass posted an impressive 37-9 overall record in his last three seasons.
Shay served as the recruiting and defensive coordinator for the Minutemen. In 2002 and 2003 his defensive unit allowed under 10 goals a game and ranked third in nation in scoring margin. The 2001 squad led Division I in man-down defense, allowing opponents only 11 goals in 80 chances (.138).
Prior to joining UMass' staff, Shay was an assistant coach at Delaware, where in 1999 he helped the Blue Hens capture the America East title with a 14-3 record and advance to the NCAA Tournament for only the second time in school history. In June of 1999, Shay was selected to join Delaware head coach Bob Shillinglaw on the coaching staff of Team USA for the inaugural World Cup of Lacrosse. Team USA defeated Team Canada in a best-of-three series at John Hopkins University in Baltimore.
Shay began his coaching career as the head coach at Morrisville (N.Y.) Junior College, and he compiled a 20-17 record in three years. His 1995 team established a school record with a 10-4 mark, qualified for the regional playoffs and was ranked No. 5 in the final national poll.
Shay is a 1994 graduate of Le Moyne College where he was a four-year starting defenseman and served as team captain for two years. He was an All-Empire League selection as a senior when he led the team to a league title.
He and his wife, Sheila, their sons, Logan and Griffin, and daughter, Everly, live in Guilford.
Since Shay arrived at Yale:
9 - Ivy Tournament appearances (2010-18)
6 - NCAA Tournament appearances (2012, 2013, 2015, 2016, 2017, 2018)
5 - Ivy Tournament Championships (2012, 2013, 2015, 2016, 2017)
3 - Ivy Regular Season titles (2010, 2017, 2018)
1 - National Championship (2018)
Facebook
Twitter
Google+
Email
Print
Addthis